Welcome from Vice President Humphrey
Welcome to Cal Poly, in beautiful San Luis Obispo!
My name is Keith Humphrey and I am proud to be your Vice President for Student Affairs. Our Student Affairs team is here to support you as you build relationships, get involved, stay well and continue your success to graduation and beyond as a Cal Poly proud alumni. From day one, we are here to help you embrace your unlimited possibilities through exceptional programs and services throughout your Cal Poly experience.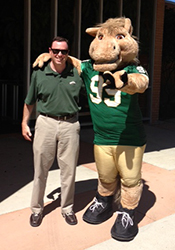 It's important for me to hear about your experiences and find ways for us to improve our service to you. I have open office hours every Monday during the academic year from 4-5 p.m. at my office, located in the Administration building 1, room 209. You can also email me or message me on Facebook.
We wish you an exciting, safe and rewarding school year!
Ride High, Mustangs!
Dr. Keith Humphrey
Vice President for Student Affairs
Join me on Facebook
Related Content